At 9:00 AM on July 2nd, the opening ceremony of 2017 Guangdong Legal Translation Summer School for Postgraduates was held at the Water Auditorium of No. 7 Teaching Building at GDUFS.
Principals of GDUFS in presence included Prof. Yang Aimin,Vice President of GDUFS, Prof. Yuan Quan, Dean of the Postgraduate School and Prof. Zhao Junfeng, Dean of SITS. In addition, Prof. Li Kexing, an expert on legal translation, Prof. Qu Wensheng, Dean of the School of Foreign Studies,East China University of Political Science and Law (ECUPL), and Mr. Mai Wen, Deputy Secretary General of World Interpreter and Translator Training Association (WITTA) also attended the ceremony. As many as 100 young translation teachers and postgraduates majoring in translation from over 20 universities in China enrolled at this Summer School. Prof. Zhao who was in charge of the Summer School program preside at the ceremony.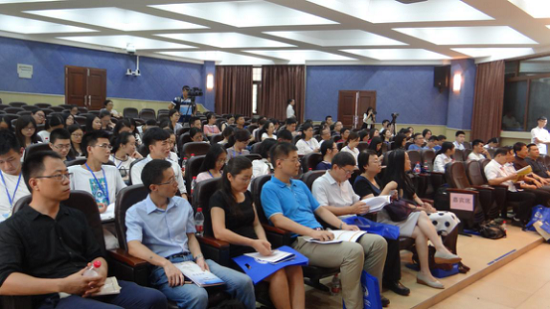 The opening ceremony
At the opening ceremony, Prof. Yang delivered a speech,warmly welcoming all officials, experts and enrolled students who gave support to legal translation. He pointed out, "as China is now comprehensively advancing the strategic plan of building a country ruled by law and strengthening international legal affairs, there is an urgent need to nurture legal translation talents."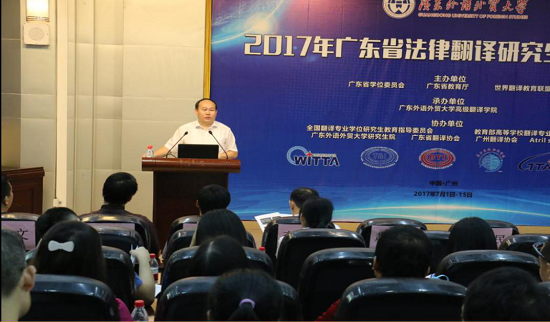 Vice President Yang Aimin delivering a speech
After that, Prof. Zhao made a detailed introduction to the basic information of the Summer School, including reasons for launching this program, experts invited to give lessons, the curriculum structure, board and lodging and other matters needing attention.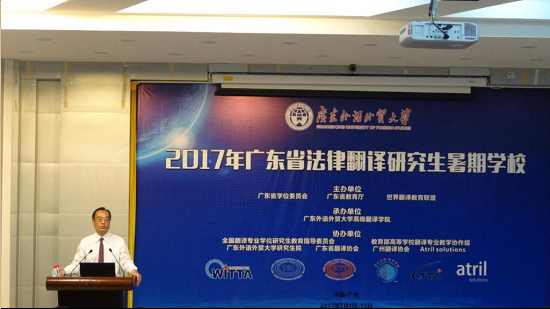 Prof. Zhao introducing the Summer School
After the opening ceremony, Prof. Li delivered a keynote speech titled "Great findings in Legal English Writing: An Insight to Translation", marking the first course of this Summer School.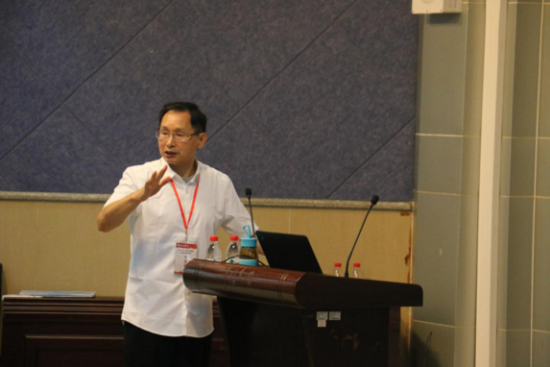 Prof. Li giving a lecture to students
Later in the afternoon, Prof.Qu gave a lecture, "Research on China-US exchanges and translation activities around the signing of the Treaty of Wangxia", elaborating on the Treaty of Wangxia's context, texts and expressions as well as exchanges between China and US at that time.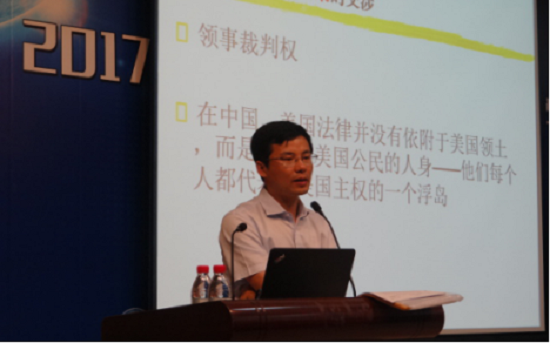 Prof. Qu giving a lecture to students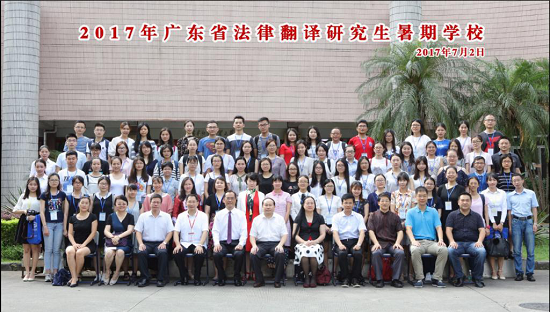 Group photo of 2017 Guangdong Legal Translation Summer School for postgraduates
The ceremony officially declared the opening of the Summer School. From July 2nd to 15th, 14 senior expertson legal translation from China and other countries would give lectures to students, which were expected to involve theories and principles of legal translation, comparative studies of legal languages in both Chinese and English, court interpreting, as well as legal translation-related technologies such as the building and application of legal translation corpus, terminologies and memories. The Summer School was launched to enhance students' competence in legal translation through short-time intensive training and provide more high-level legal translation talents for companies in Guangdong Province to facilitate their cooperation with foreign countries and their engagement in China's "Beltand Road" Initiative.