From April 14 to 15, Prof. Zhong Weihe, Deputy Director of National Steering Committee for MTI Education, together with other representatives of GDUFS attended 2017 Annual Meeting of National MTI Education and the 10thAnniversary Commemorative Meeting of MTI Education in Shanghai. The two meetings were sponsored by National Steering Committee for MTI Education and MTI Working Committee of Chinese Society of Academic Degrees and Graduate Education, and organized by School of Foreign Languages of Tongji University. Themed "The Next Decade: Inheritance and Innovation of MTI Education", the annual meeting reviewed the past decade of MTI education and looked into the future.
During the plenary session of China National Committee for MTI Education (here in after referred to as the Committee) held on April 14, Prof. Zhong Weihe delivered a speech on behalf of the Committee, summarizing major work in 2016 and stating the work plan for 2017. Prof. Zhao Junfeng, Dean of SITS and Secretary General of the Committee, presided over the meeting.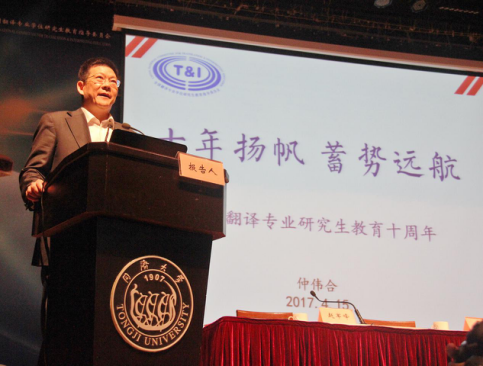 Prof. Zhong Weihe giving a keynote speech
During the annual meeting, Prof. Zhong Weihe delivered a keynote speech in retrospect of a decade's journey that MTI education had embarked on. He pointed out that fruitful achievements had been made in MTI education, and that 215 universities had set up the speciality which had trained over 27,000 graduates.
However, the quantity and quality of graduates cannot meet current economic and social needs. In the next decade, Prof. Zhong remarked, MTI education should attach importance to meeting practical needs, improving the quality of students, and innovating in personnel training mode and education management system. The closing ceremony was chaired by Prof. Ping Hong from GDUFS.
Other attendees included SITS staff like Prof. Mu Lei, Dr. Zou Bin and Dr. Xu Yi,Prof. Ge Shili, researcher with Collaborative Innovation Center for Language Research and Service, and Dr. Wang Huashu, Yunshan Youth Scholar.