On April 7, 2017, the WITTA "Language, Culture & Technology" Innovation Workshop for Integrating Teaching and Scientific Research was held at No.9 Teaching Building, GDUFS. The purpose of the Workshop is to help administrators, academic leaders and key teachers of foreign languages departments in colleges and universities in Guangdong Province to systematically learn about the current application of information technology to foreign language research and teaching, and to reform, integrate and innovate foreign languages education with the big data technology as the driving force.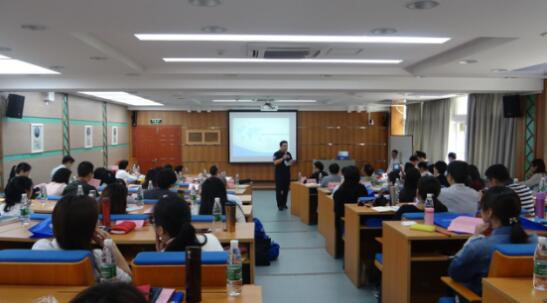 Participants at the Workshop
On the morning of April 7, the Secretary-General of WITTA and Dean of SITS Zhao Junfeng gave a welcoming speech titled "Personnel Training Guided by the 'Innovation-led, Industry-driven and Career-oriented' Idea". Prof. Zhao illustrated the significance of the founding of WITTA. He stated that WITTA would combine different parties' strength to fully integrate and innovate the excellent teaching and research resources for the development and seamless joint of disciplines, personnel, scientific researches and the industry.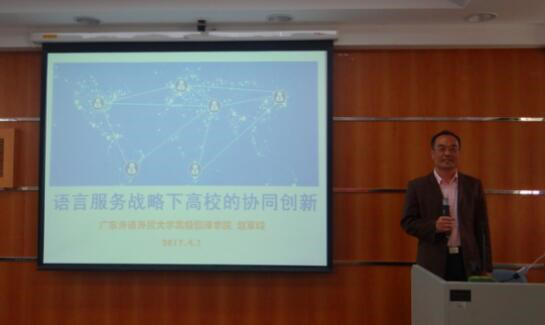 Dean Zhao Junfeng giving a welcoming speech
Professor Zhang Guangkui together with his team from the School of Foreign Languages in Shenzhen University explained the ecological significance of the integration and innovation of "Language, Culture& Technology" in the vivid form of rap. The Deputy Secretary-General of WITTA, Mai Wen introduced the theme of the workshop by giving a lecture on "Innovation Leading of 'Scientific Research and Industry' under the Background of Supply-side Reform—— Research and Practice of 'Government-Industry-University-Research' Integrated Innovation Pattern". Dr. Wang Huashu from GDUFS and Chang Shaohua, the deputy editor ofForeign Languages in Chinaalso gave speeches respectively on the application of intelligent technology to translation teaching and the prospect of academic journals under the overall background of digitization.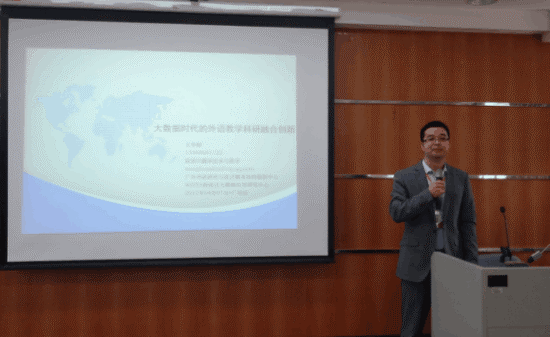 Dr. Wang Huashu delivering a speech
Hands-on presentations and discussions were also carried out in the workshop, which emphasized the idea of "integrated innovation" and intelligent technology platform. Representatives from three big data technology enterprises took part in the application presentation, Q& A part, and cooperation talks centering on the theme of "Digitized Course Resources Building and Online Courses Building".
At the end of the interaction between universities and enterprises, Dr. Wang Huashu called for the integrated innovation of big data technology through the "Government-Industry-University-Research" collaboration, thus to promote the healthy development of language service ecology. As President of WITTA, Professor Li Defeng from Macao University hosted a salon to exchange ideas with heads of foreign languages departments of universities in Guangdong Province. They discussed about the differences in personnel training models and characteristics between China and the rest parts of the world, and Prof. Li also showed his will to build a bridge for collaborative innovation. The "Language, Culture& Technology" Innovation Workshop of WITTA (Guangdong) concluded successfully.