From February 28 to March 2, 2017, the 33rd LocWorld Conference was held in Shenzhen, China. Representatives from Google, Alibaba, IBM, and 300 other businesses from approximately 30 countries gathered together with experts in localization to discuss how AI and automated translation is changing the world economy. Shunee Yee, founder and CEO of CSOFT International, delivered a keynote speech on the "Future of Work", which drew great attention.

Shunee Yee led the panel with Weihe Zhong, President of Guangdong University of Foreign Studies and Vice Chairman of the National Committee for Translation, and David Zeng,Halliburton's Country Vice President for China. They all shared their opinions on how machine translation and big data is shaping the language service industry as well as outlining the challenges the localization industry faces in this new era. The discussion panel attracted hundreds of localization experts to the main conference room.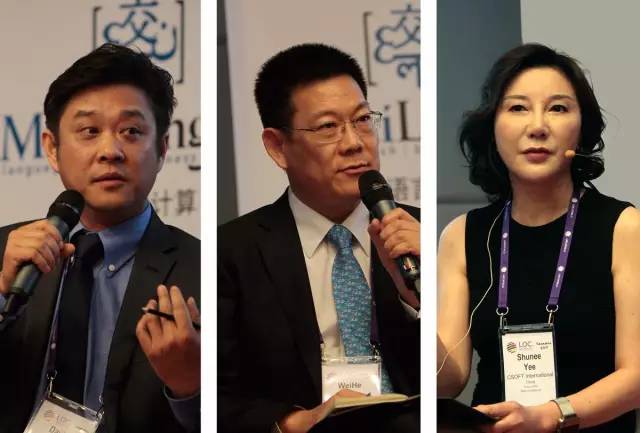 David Zeng, Zhong Weihe and Shunee Yee
Will Artificial Intelligence Takeovers from the Movies Come True?
Ray Kurzweil, Google's technical director and expert in the field of artificial intelligence, predicted at the 2016 Techonomy conference that machines will outsmart humans by the year 2029. By the 2030s, virtual reality will begin to feel 100% real, and we will even be able to upload our minds by the end of the decade. By the 2040s, non-biological intelligence will be far more capable than biological intelligence.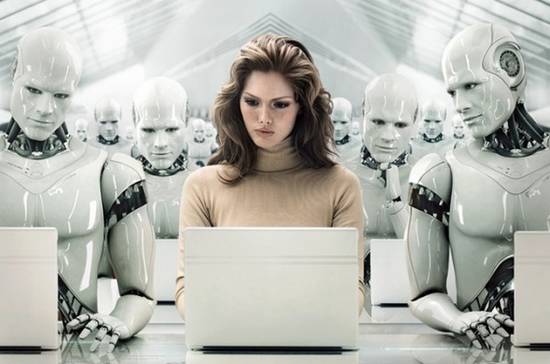 Yee believes that "the development of artificial intelligence is very likely to make the scenes in the movies come true, and those innovative Chinese companies will take this opportunity to become pioneers in the technology industry".
The Language Service Industry is at a Crossroads
The localization industry in the 1990s was mainly focused in North America and Europe and supported multinational companies in exporting software products. The industry rose rapidly among global markets in the past decade. Although China's language industry was initiated in the 1990s, the 21st century has seen a shift due to increased economic globalization and the "one belt one road"initiative done by the Chinese government, resulting in the rapid growth of the translation industry. As more and more Chinese companies are striving to go global, the needs of the language service industry is also rising.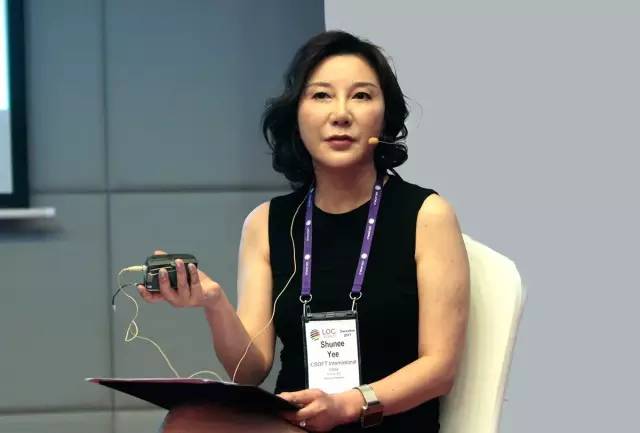 Shunee Yee
Yee went on to say, "the development of the Chinese language industry is at a crossroads and technological innovation has brought new requirements for language services providers." In the 1990s, English was the major source language and most translation was labor intensive with few machine translations involved. In 2020, English, along with a number of other languages, will become major source languages, while machine translation does half of the job. By 2040, it is expected that most translations will be done by machines with little help from humans.
Professor Weihe Zhong mentioned "it is important to set industry standards in an upcoming new era of language services. The technology revolution in the language industry also provides opportunities for talented people. We need to train the younger generations more to help them as well as helping ourselves to fit in the market."
Bill Chen and LocWorld experts
As China's leading language service provider, CSOFT has helped 4 out of the top 5 Chinese global companies–Lenovo, Huawei, Alibaba, and Xiaomi, to"go global". When partnering with these companies, CSOFT uses its cultural and linguistic expertise to overcome the barriers and pre-conceptions that often meet Chinese brands in international markets. By analyzing local markets and implementing a strong, country specific communication strategy, CSOFT is able to assist companies in rebuilding the"Made in China"perception.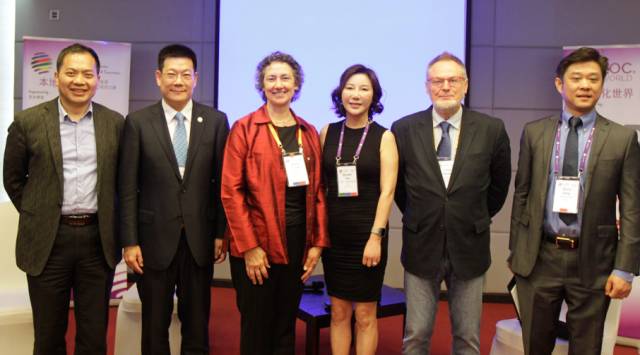 Bill Chen and LocWorld experts
Shenzhen companies such as Huawei are realizing the importance of localization strategies to their overseas expansion. However, a lot of companies just sell their products and ignore the crucial needs for cultural adaptation. What Huawei focuses on is to help foreign customers in understanding the products and bringing them the "ultimate user experience".
As a leader of Shenzhen companies going global, Huawei is serving 30% of the global population and has business in more than 170 countries and regions. Outstanding language services played a critical role in Huawei's successful globalization efforts. Director of Huawei's translation center, Bill Chen, pointed out that"many companies will face problems from translations and to fully solve these issues, they need to understand the local society, respect regulations, and contribute to the local society".
"Made in China 2025"
Requires "Shenzhen Quality"
In the beginning, CSOFT provided services to Fortune 500 enterprises world-wide such as IBM and Microsoft, but has since turned its focus back to Chinese companies in recent years. In 2016, CSOFT's Founder and CEO, Shunee Yee, researched and published the first report on Globalization Maturity of Chinese Companies--"The Globalization Shenzhen 100 Report". The report analyzed and ranked the top companies in Shenzhen in terms of their globalization maturity. Shunee Yee pointed out that"highly efficient globalization is the way Shenzhen companies must experience true global success."