On December 17, 2016, WITTA held legal counsel appointment ceremony at the founding conference of the Localization Service Committee of the Translators Association of Guangdong Province, appointing Prof. Zhang Falian, PhD of China University of Political Science and Law (CUPL) and President of China Association for Legal English Teaching and Testing, as WITTA's legal counsel concerning foreign affairs. WITTA Secretary General and Dean of School of Interpreting and Translation Studies (SITS) Zhao Junfeng issued Letter of Appointment to Prof. Zhang.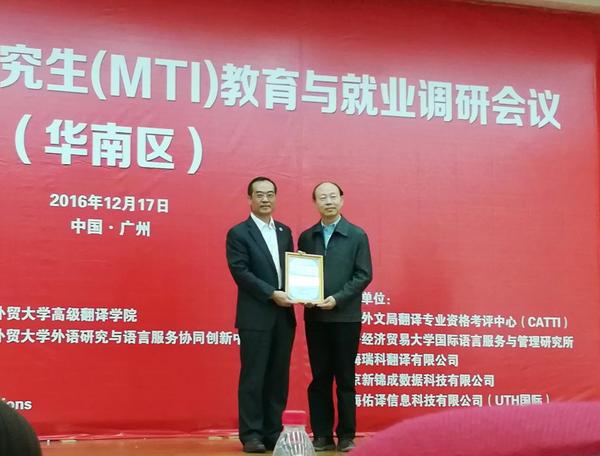 Profile of Prof. Zhang Falian:
Born in Liaocheng, Shandong Province, Zhang is professor and doctoral tutor of CUPL and Tongji University, and President of China Association for Legal English Teaching and Testing. His major research fields are legal language (legal translation), American legal culture, Science of Diplomacy and American studies. He is Doctor of Jurisprudence (JD) of Indiana University, Master in English Linguistics and Literature of Renmin University of China, and Post-EMBA of School of Economics in Peking University.
Prof. Zhang Falian has been working in departments under the CPC Central Committee for many years. He was a senior visiting scholar at the University of Minnesota, and is part-time professor of such universities as Nanjing University, Southwest University of Political Science & Law, and Zhejiang Gongshang University. Zhang once served as assistant of Deputy Minister of Indiana Department of Justice, US, Deputy District Director of Hexi District People's Government in Tianjin and standing member of Beibei District CPC Committee in Chongqing. In recent years, Prof. Zhang has published more than 30 papers in core journals such as Foreign Language Teaching and Research, Chinese Translators Journal, Journal of Law Application, Contemporary World and other international journals. He has published more than 30 monographs (including translated works), dictionaries and textbooks such as Legal Language, American Trademark Cases and Analysis, and College Legal English. He is also a member of the editorial board of Chinese Journal of ESP, Editor-in-Chief of Journal of Language and Culture Research, and Vice Chairman of the Guiding Committee of Experts on the National Examination for Legal English Certificate (LEC), presiding over the "Legal Language Discipline Planning Study", a Humanities and Social Sciences program of the Ministry of Education.