切换中文‍

Function as a Guideline and Accuracy as a Principle —
a Brief on "Workshop on Function and Translation"
On the afternoon of November 9, a workshop themed on "Function and Translation" was held at International Conference Hall in Administrative Building of GDUFS. Many renowned scholars at home and abroad such as Christiane Nord, Jan-Louis Kruger, Huang Youyi, Fu Penghui and Huang Guowen were invited to attend this workshop to discuss the relations between function and translation and their application, as well as translation practice under the principle of accuracy.
Dean Zhao Junfeng delivered a welcoming speech, making a brief introduction to this workshop and wished it a huge success.
Dean Zhao Junfeng giving a welcoming speech
Five professors were appointed as senior advisors of World Interpreter and Translator Training Association (WITTA).
Professors awarded with certificates
Later, Professor Christiane Nord gave a lecture themed on "Meaning, Sense, Function: What do We Translate?". She focused on the meaning of functionalist translation theory and its application in translation practice, introduced how to use the "intended function" as a guideline for translation, and explained in detail the Four-Function Model that she advocated.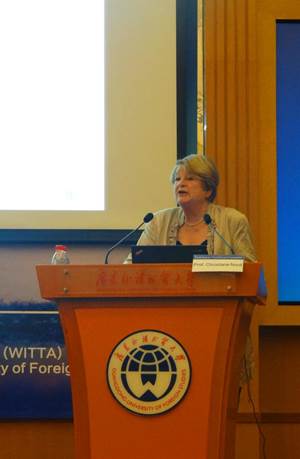 Professor Christiane Nord delivering a speech
Prof. Jan-Louis Kruger made an illustration on his in-depth research "The Tension between Documentary and Instrumental Translation in Audiovisual Translation" and shared his opinions on how to better translate audiovisual texts on the basis of his own practical experience.
Professor Jan-Louis Kruger delivering a speech
After that, Professor Fu Penghui gave a speech themed on "Foreignizing or Domesticating Translation" and illustrated the principle of accuracy of translation combining with his work experience in the United Nations.
Professor Fu Penghui delivering a speech
By taking translating Chinese for international English audience as an example, Professor Huang Youyi gave a vivid account of how to overcome obstacles in the aspects of historic background, cultural differences and linguistic habits to convey Chinese spirit accurately when translating government documents.
Professor Huang Youyi delivering a speech
This workshop provided a precious platform for teachers and students participated. All of them benefited a lot and said that this experience would be much helpful for their translation practice.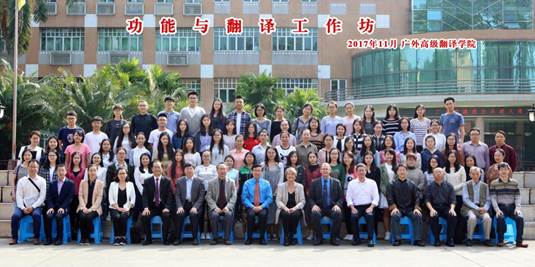 Group photo